11 March 2014
Tidetech is now able to supply the world's most comprehensive range of weather and oceanographic data products. Responding to customer demand, we are now offering high resolution weather data alongside our tidal, current and wave data, with global data products containing a total of 15 different environmental parameters.
Weather, waves and currents are the largest combined factors affecting the performance and efficiency of vessels at sea. A full suite of met-ocean products in voyage planning and execution is essential for maximum bunker and efficiency savings.

 We have added two independent atmospheric models providing accurate global and regional high-resolution weather data, sourced from specialist marine meteorologists partners with America's Cup winning experience. These atmospheric models include detailed topography which results in more accurate output of coastal winds, particularly katabatic winds, sea breezes and acceleration zones. 
Below: Wind acceleration in the Straits of Gibraltar. Red shading denotes strongest wind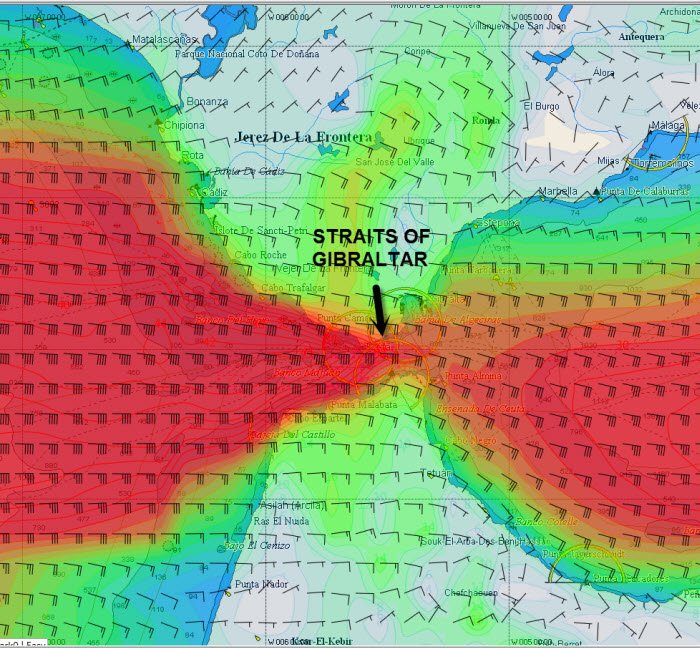 Our weather data covers global forecast for 100km (nine days), 60km (seven days); and regional forecast for 8km (seven days), and 1km (24 hours).
 Weather parameters available:
 Mean sea level pressure
Wind 10m

Wind 40m

Wind 850

Rain mm/h

Cloud percentage

Air temperature (degrees C)

Humidity %

 We also offer new wave data sourced from NCEP – global forecast at 50km (seven days).
 Wave parameters include:
 Significant wave height and direction
Significant wave period

Swell height and direction

Swell period

Wind wave height and direction

Wind wave period

Plus
Wavelength*** (Tidetech proprietary output)

 For more information on total environmental data for voyage optimisation, contact us at info@tidetech.org.