12 March 2014
Late last year we took a trip to Savannah, GA, to attend the Ocean Exchange event as a finalist. By connecting innovators and organizations, The Ocean Exchange empowers the successful application of solutions for the greater good.
From our participation, we're very pleased to have been invited by the Economist to attend the second World Ocean Summit in San Francisco at the end of February. These are two highly prestigious events were setup to gather leading innovators in sustainable technology.

The Economist's Second World Ocean Summit, following-on from the successful inaugural event in 2012, brought together a wide group of global politicians, business people, economists, environmentalists, scientists and regulators to explore new ideas and solutions on how to manage the growing human impact on the ocean more sustainably.

The 2014 summit was a very interesting two days spent in the company of some pretty powerful folk, including US secretary of state John Kerry, World Bank vice president Rachel Styles and various heads of states.

Our mission was to show how advanced met ocean data can contribute to a sustainable shipping industry, a theme following on from our participation in the Ocean Exchange.

We also got to see new innovations for public awareness of the oceans including the launch of Google Oceans, underwater street view. With Google Ocean you can now explore some marine protected areas, such as Heron Island in the Great Barrier Reef.

It's incredible technology.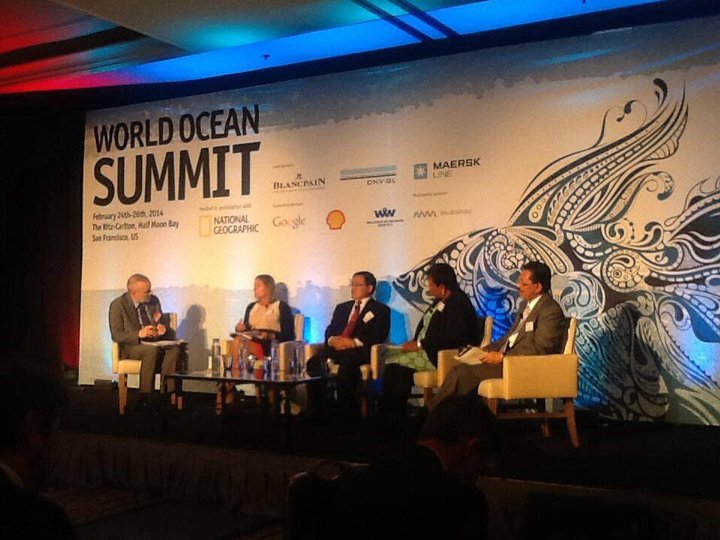 OCEAN EXCHANGE COMPETITION
The Ocean Exchange was a really tough competition with some extraordinary participants.

We had the opportunity to meet some remarkable innovators showcasing some very smart green technology solutions for various problems (such as new ship hull coatings and ocean motion energy harvesting).

As part of the competition, we were able to demonstrate our global currents and tidal data and forecast solutions, and discussed the real results our shipping clients are seeing around the world.

From the Ocean Exchange winners' announcement media release:

"Founded in 2010, The Ocean Exchange is the intersection where organizations from around the world advance and promote their cutting edge solutions and innovations in materials, devices, processes, and systems. We have created the knowledge-based catalyst for organizations to achieve their Corporate Social Responsibility Goals. By connecting innovators and organizations, The Ocean Exchange empowers the successful application of solutions for the greater good.

We are advocates for innovators. We are advocates for collaboration across industry and geography, while protecting the intellectual property of the innovator."

Our sincere thanks go out to the major sponsors - Gulfstream Aerospace Corporation and Wallenius Wilhemsen Logistics for making it possible for us to attend the event and their ongoing support.

You can learn more about Ocean Exchange here: www.oceanexchange.org.